About Philip Begley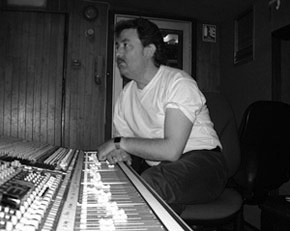 Over the last thirty plus years Philip has gathered an impressive list of credentials amongst the premier artists of the music industry, artists such as Enya, The Corrs, Bill Whelan, Paul Brady, Clannad , The Dubliners, Daniel O'Donnell and Mary Black to name but a few.
Born 1957 in Dublin, Ireland, Philip was reared with a love of music. His grandmother Alicia Keogh, was a renowned contralto and accomplished pianist. His father too was a fine musician. During these early years Philip was exposed to a healthy dose of Motown, Rock, Blues, Soul and Folk by his older siblings... bands as diverse as the Beach Boys, Led Zeppelin, The Beatles, Cream, Jethro Tull, John Mayall, Free and the Band. Philip also became a big fan of the pirate radio stations of the time, 'Radio Luxemborg' and 'Radio Caroline', introduced a whole new mix of emerging artists. It was the heyday of musical experimentation, from Genesis and Pink Floyd to Hurricane Smith and his upright piano, a time when every kind of music could coexist side by side in the popular charts.
In 1972 Philip joined Eamonn Andrews Studios and worked with some of the great 'Showbands' of the day, along with some of the early Rock outfits coming on the Dublin scene. After the famous fire and closure of Eamonn Andrews Studios, Philip was head-hunted by 'Lombard Studios' who were struggling to attract business. Re-designing the control room and installing a new monitor system by Eastlake Audio (David Hawkins), Philip soon had the studio booked for months in advance and developed a fantastic reputation among the bands of the time, bands such as; The Bogey Boys, Bagatelle, Stockton's Wing, Scullion, Those Nervous Animals, Freddie White and Mama's Boys. Working with these diverse bands helped to pave the way for Philip's interest in all genres. Also during this time, Philip relished the opportunity of working with some of the greats of Traditional Irish music... people like Christy Moore, Donal Lunny, Andy Irvine, Davy Spillane, Delores Keane, Eleanor McEvoy, Micheál Ó Domhnaill and Kevin Burke, demonstrating a versatility, which Philip possesses to this day.
After a couple of years, Philip felt that he should not be confined to one particular studio and should once again work freelance, allowing him to use his natural talents, taste and style to greater effect. Philip was promptly recording and mixing albums in Windmill Lane Studios, Lombard Studios, Dublin Sound and traveling to various London studios including Air, Westside, RAK, Battery, Redbus and many others.
Following the closure of Lombard Studios the new Westland Studios was formed in its place, Westland enlisted Philip to oversee the construction of their new facility. Philip's vision and development with the help of an SSL console insured that Westland Studios was the place to record. At this time, Philip was inundated with work both at home and abroad, traveling to London, New York and Brazil, working in such studios as CBS Whitfield Street, Olympic Studios, Strawberry, Sarm, Ridge Farm Surrey, Electric Ladyland NY, Sony NY. And in the midst of all this, he found time, to do a stint on the road playing keyboards for Mary Black.
In recent times Philip has covered a lot of ground, composing his own music, co-writing with others, recording, mixing, mastering, producing music for film, theatre, CD, stereo and 5.1 surround. He has recorded scores for films such as 'Poitín' ( Bob Quinn ) and 'The Eclipse' ( Conor McPherson ). Other recent work includes EP's for 'Doctor Leaves' and 'Fredrick and the Golden Dawn', as he says himself; "I still love doing this, I learn something new each and every time, sometimes about the people I'm working with but more often about myself. I get great pleasure out of making peoples visions come true, a composer imagines the piece, a songwriter 'hears' the song, a musician dreams of something different, something new. I just love all that."
---
© Philip Begley 2010 — philip@philipbegley.com